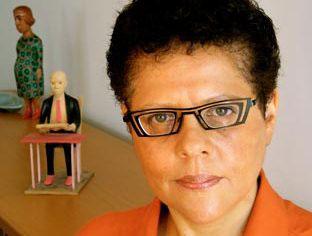 Diverse Issues in Higher Education highlights a collaboration between English and Africana Studies Prof. Yvette Christiansë and Dr. Isabel Hofmeyr of University of the Witwatersrand in Johannesburg, South Africa. An excerpt from the article:
"Since joining the faculty at Barnard in 2010, Christiansë has been inspired by the college's commitment to developing international programs. To that end, this semester she is co-teaching the course "Africana Issues: Diasporas of the Indian Ocean" with Hofmeyr. Students in both parts of the world will be interacting with each other and blogging about their experiences.
"We're looking at the labor movements, the history of slavery in the Indian Ocean," says Christiansë, who grew up in South Africa during apartheid. Her family moved to Australia when she was 18, although she returns to South Africa frequently.
"After 1807, when the slave trade was abolished [by an Act of Parliament in the United Kingdom], it actually expanded in the Indian Ocean," she says. "The older trade networks in the Indian Ocean accommodated the ongoing demand for slaves."
"There is a necessity to remember the Indian Ocean in all discussions of colonialism and post-colonialism," she adds. "If we're going to talk about constructions of race, we must not forget the complexities of discussions of race in the Indian Ocean.""
Read the full article.
Prof. Christiansë is a South African-born poet, novelist, and scholar. She teaches poetry and prose of former English colonies (with an emphasis on South Africa, the Caribbean and Australia), narratives of African Diaspora, 20th Century African American Literatures, poetics and creative writing. Her research interests include the nexus between theories of race and gender, class and postcoloniality.